You may have asked the question What is ConversioBot about and have been overwhelmed with information on this intelligent chatbot so I would like to simplify things for you and give you this breakdown review about ConversioBot for you to decide if it is the best chatbot to help your business succeed.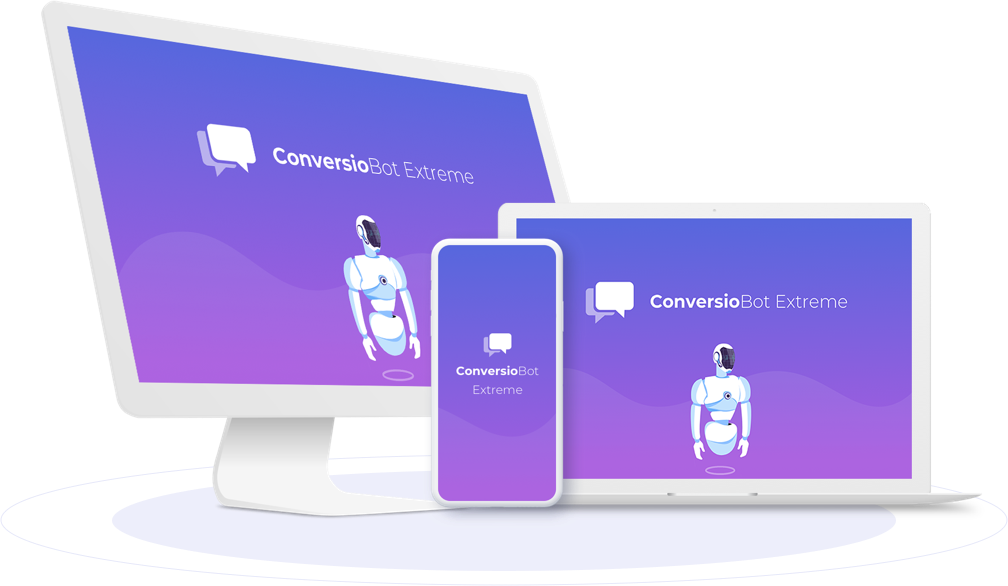 ConversioBot Overview.
Name: ConversioBot
Website: www.conversiobot.com

Price: From $37 with some upsells
Founders: Simon Wood, Giri Prakash and Imran Sadiq


---
What is ConversioBot?
A great piece of highly intelligent software designed and founded in 2017 by a Manchester UK Based company run by Simon Wood, Giri Prakash and Imran Sadiq, within the past 3 years ConversioBot it has grown hugely and at the time writing this it has already generated more than 12 million chatbot conversations
ConversioBot is a very intelligent cloud-based chatbot which interacts with your customers who visit your website/blog which can then help generate leads and sales without you doing any of the hard work.
It is such a simple set-up where you only have to copy and paste some simple codes so its very user friendly.
You can check out the demo video below and see for yourself how easy it can be for you to set up a chat-bot.
---
The Good and the Bad about ConversioBot.
 The good:
Onetime Payment (No Monthly Fee).
Very Low Cost (even with a 30-day money-back guarantee).
Build Lists With Ease.
An easy to use Builder to Create a ChatBot in Minutes.
Build Lists With Ease
Step-by-Step Video Tutorials.
Access to Analytics on the performance of your bot.
Done for You Templates.
The Right to Build a ChatBot and Sell it to Make Even More Money.
The ability to create a ChatBot in any language you wish.
The Bad:
No Free Trial (But it does come with a 30-day money-back-guarantee).
A Few Upsells to get some of the extra features.
---
Who is ConversioBot for?
As this website is mainly aimed at affiliate marketers I would say that the ConversioBot is perfect for affiliate marketing and it was initially designed for this business model with it also replacing the need for opt-in forms with Email Marketing so ChatBots are starting to be high in demand and which is now becoming the future of online marketing but it is not only for Affiliate Marketers as ConversioBot can be used for many other websites such as…
eCommerce Websites.
Local Business Websites.
WordPress Blogs.
Freelance Websites.
Consultancy Websites.
Sales Letters.
List Building Pages (Without opt-in forms)
Plus Many More…
---
ConversioBot Tools & Training.
With easy to watch over the shoulder step-by-step video training to help makes it so easy to understand the simple process of building a ChatBot and integrating it into your website/blog with all the tools needed to succeed online from a straight forward point and click to a copy and paste you can have your own ChatBot up and running with only a few minutes work.
>>>>> Please Click Here for even more information on this Amazing ChatBot <<<<<
---
ConversioBot Customer Support.
Of course, there is the intelligent customer support ChatBot full of lots of help and support but if you would like to communicate with a physical person within the support team then ConversioBot do offer a ticket system to answer all enquiries from technical and billing to General enquiries plus they also have a support email so they have all angles covered which is true dedication to customer support.
---
ConversioBot Pricing.
The price for the main ConversioBot software to create your own ChatBot for your website/blog costs as a onetime fee of only $37 (Sometimes they offer it for only $27) and for this low price it will give you the following features…
All-Done-For-You ChatBot Templates.
Create Your Own ChatBot in Minutes with Ease.                                                 
Step-By-Step Easy to Follow Video Training.
Dedicated Customer Support.
The Ability to Build a Customer List.
Full  Easy to Understand Analytics
Plus so much more.
Although you can do quite a lot with the onetime payment of $37, however, there are a few upsells ranging from $47 up to $97, these upsell offer many more features including…
75 Done-For-You ChatBots (Saving even more time)
A Commercial Licence to Sell Your ChatBots=Huge Potential Profit.
New Monthly Templates Free of Charge
Step-By-Step Video Training on Selling Your ChatBots For as Much as $500 Each.
Your Very Own Ready Made Professional Agency Website.
Plus a Huge Amount More!
These are only upsells and there is no obligation to buy because the starter software ChatBot will do more than enough for your needs and you can always upgrade once you are making good money and can reinvest your earnings should you wish to do so.
---
ConversioBot Bonuses.
There are bonuses if you were to invest in the ConversioBot software which are…
Elite Bonus #1: >>> 5 Done-For-You ConversioBot Cool Templates (Value $147)
Elite Bonus #2: >>> VIP Training on Selling ChatBots to a Targeted Audience (Value $197)
Elite Bonus #3: >>> 20 Bonus ChatBot Images (Value $47)
---
My Final Opinion of what is ConversioBot About.
ConversioBot is an excellent and highly intelligent ChatBot Software, very easy and fast to set up you can be sure that the Bot will meet or even exceed your expectations in no time at all.
At a very low price (Should be worth more) ConversioBot will make your communication with your visitors so much more user friendly and turn those visitors into paying customers and even long-term recurring customers.
The founders of ConversioBot have put in so much research, time and finance into building what I believe to be the best ChatBot on the internet today and they will grow (Most probably increase their prices) over the coming years with more and more templates, bots and more intelligent technology that they will always be the Number 1 Choice for website/blogs ChatBots
---
ConversioBot at a Glance…
Name: ConversioBot
Website: www.Conversiobot.com
Founders: Simon Wood, Giri Prakash and Imran Sadiq
Price: From $37 plus some upsells
Rating: 4 out of 5
VERDICT: Legit
I hope this post on what is conversiobot about has been of some value to you and if you would like to make a comment or ask a question then please feel free to do so and I will reply as soon as possible.
In the meantime, if you would like to get extra help with your affiliate marketing then please read my review on what I believe to be one of the best online marketing courses available today by clicking below…
 Click here to read about my number 1 recommendation on affiliate marketing courses
I wish you all the best for your future success,
Matt.
www.smartaffiliatetraining.com
Pros
Onetime Payment
Very Low Cost
Build Lists With Ease
Build Lists With Ease
Step-by-Step Video Tutorials
An easy to use Builder
Done for You Templates
Cons
No Free Trial
A Few Upsells to get some of the extra features.